Route & Location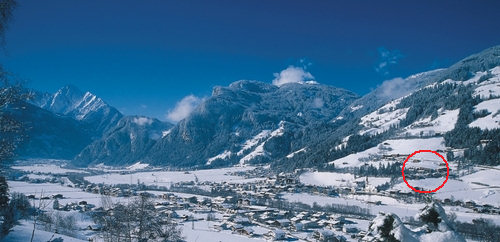 Car:
So will find your "sunspot" a little easier, you will find below a short description of the route:
Inntalautobahn – Exit Zillertal (please take notice that on austrian motorways you have to buy an "autobahnvignet")

Follow the road (B169) for about 30 km until you reach the traffic lights in Hippach

Here you turn right into the village and in the direction of the "Zillertaler Höhenstraße"

You continue on the "Schwendberg Zillertaler Höhenstraße" for about 3 minutes

at the exit "Astbühel" – please turn left

drive downwards – 2nd house to the left (housenumber 277)

You have reached your goal and the holiday can start..…
Routeplanner:

Please use our routeplanner. Enter your address and there we go!. Have a pleasent drive!!


Larger view

Train: Having arrived at Jenbach, you can take the Zillertal train to Hippach. Alternatively, take one of the regular buses into the Hippach holiday region (stop Ramsau/Hippach).

Airplane: Airport Munich/Franz-Josef-Strauß 187 km
Airport Salzburg/Maxglan 167km
Airport Innsbruck 62 km
Important for the trip

Austria is a "Schengen-country". Nevertheless make sure you are travelling with a valid passport or ID card. Your Travellers Cheques are exchangeable at the banks and post offices. There are numerous ATM-machines as well. In general Credit Cards are accepted but there are exceptions.
Note that banks and post offices are closed on Saturdays and sundays.

Autobahnvignette

In Austria you have to buy access to the motorways with a special 'autobahnvignet' You can buy these vignets at the border. Prices depend on the length of your stay. A 10-day vignet costs approx. € 8

Winterequipment for the car

In the winter it is essential that your car is well equiped for the winterconditions. (winter tyres and snow chains). We recommend to try at home how the snow-chains are mounted, so you will already know how to do this when it becomes necessary.